Larry and Spencer Go to Xinjiang, China
or 10 Days West of Fast Food
---
Larry Greene and Spencer Wright, both rising juniors at West Potomac High School spent 2 weeks in China, July 15-28, 2001 accompanied by Larry's parents, Neil and Mike Greene. Most of the trip took place in the Xinjiang Uyghur Autonomous Region in the far northwest corner of China. We flew from Washington's National Airport to Shanghai via Chicago and San Francisco. While waiting for the flight in San Fran, I bought this month's copy of "Outside Magazine" with an article on the 30 most remote places in the world. Among the 30 was the Taklamakan Desert in China in Xinjiang Province, China, our destination.

The map below shows the route that we took over 2 weeks, starting in Shanghai. If you click on the town name on the map or on the line at the top of this page, you will find photos of our stay in each town.
.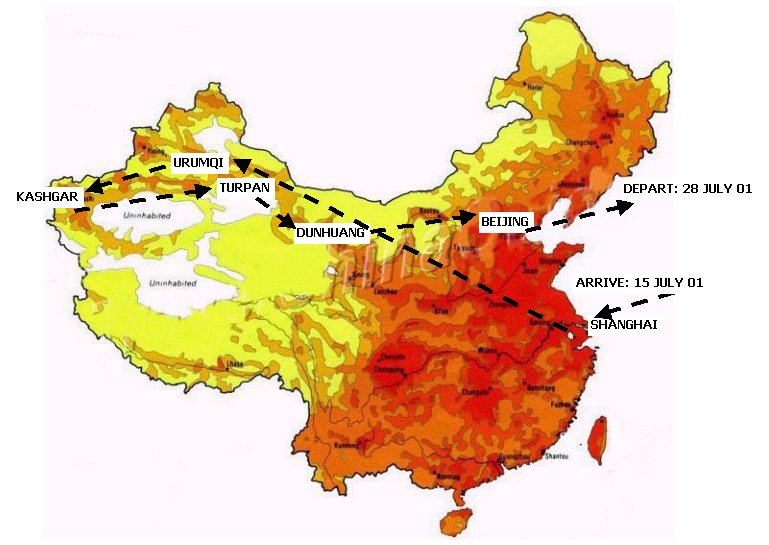 The question has come up often in the last couple of weeks - why Xinjiang Province for a vacation? There are at least a couple of reasons. One is that while we were living in Korea, a number of our friends visited the province and came away with rave reviews of their visits. Another is that this is the location of the ancient Silk Road connecting Europe with China and India for hundreds of years and the source of much history and culture that affects the Middle East and China to this day.

The Silk Road from Europe starts on the eastern shore of the Mediterranean and moves through Central Asia from Aleppo to Bokhara and Samarkand before crossing the Pamir Mountains to Kashgar, China. Another route moves north up the Indus River valley in modern day Pakistan and crosses the Karakoram Mountains joining the main route also at Kashgar. The Silk Road was main economic link between Europe and China from around 600 AD to the 1400's. It is the route followed by Marco Polo whose name still graces many hotels and bars along the way. The route fell into decline and largely disappeared with the advent of Portuguese and English seafarers who bypassed the often dangerous Silk Road after their discovery of sea routes around Africa or through the Red Sea.

Anyway, Kashgar became one of those cities like Timbuktu – you heard a lot about it, but who could ever get there? We decided to try.
To plan a trip of your own to China, contact China Custom Tours. They have an office in New York and did a great job getting our trip organized. Helen, at China Custom, worked with me to develop our own itinerary and limited our group to just the 4 of us.