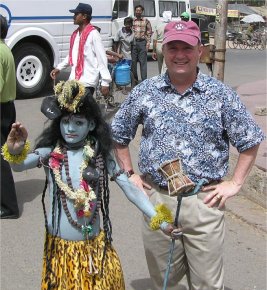 Our next stop was Agra Fort, not far from the Taj. This was the Mughal emperors' seat of government when the capital of India was in Agra. Built of red sandstone by Sharjahan's father, the same material used for Red Fort and Qutb Minar. Sharjahan, as shown by the Taj, preferred white marble. When he was emperor, he covered many areas of Agra Fort in white plaster to mimic white marble.

The fort contains Persian, Mughal, Hindi, and Christian architecture because the emperor who built it had 4 wives one from each of those religions.

It also contains characters like the one to the left (the blue one). There was no shortage of people dressed up in some costume or another waiting to have their picture taken.