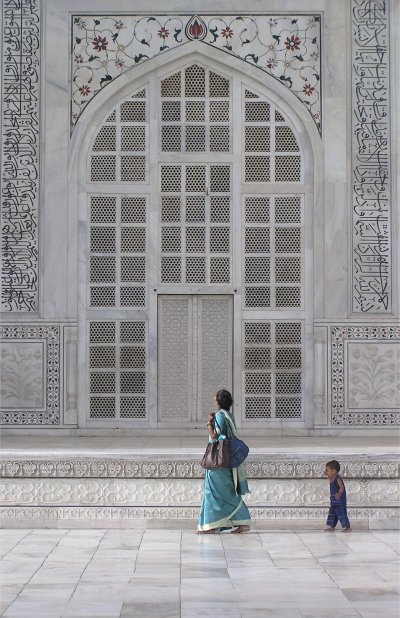 We arranged for our tour guide to pick us up at 6:00AM for an early morning tour. No crowd, few hawkers, no lines - all the benefits of the extreme heat, which luckily, was somewhat tempered at this early hour. We were actually alone in the inner chamber of the Taj where Mumtaz Mahal and her husband, Sharjahan, have their tombs.

The Taj is all that is written about it and more. More beauty in the details and in the whole - more beauty to be seen and immersed in without the crowds to block the view or move you along. The heat was lifted to some extent by a constant wind. The sun was hitting the east side of the Taj causing the natural gems set in the marble to sparkle.

One man offered (not for free) to show us the best photo spots but I was worn out trying to keep up with him, so paid him (less than he wanted) and encouraged him to move along.

The Taj's details include the marble carved in relief as shown on this page's background, perforated marble screens such as shown on the door to the left where each section is a single piece of marble, and pietra dura or stones set into the marble as shown below. Each feature is many times more spectacular when seen in person rather than through photographs.