After a prompt pickup by our tour guide, it was off to town careening at high speed through light traffic - India drives on the left which only adds to the thrill. At one point in a crowd of buses honking and weaving, came a motor rickshaw driver towing his vehicle on foot against the traffic oblivious to the onrush. This was our first clue that traffic would be a major part of the tourist experience in India.

New Delhi, a section of Delhi build by the British in the 1930's for the new capital of India, is marked by wide boulevards, heavy greenery, large parks, and massive government buildings. There is not a dense office core like we are used to in American cities. Delhi is so thickly planted with trees that we arrived at our hotel, Le Meridien, thinking we were still out in the countryside somewhere.

The hotel was comfortable and well located, but way too dark inside for our tastes. Maybe it was to avoid the heat outside, but the interior atrium that ran the full height of the building was unlit leaving one feeling like they were peering into a void when leaving your room to go to the lobby.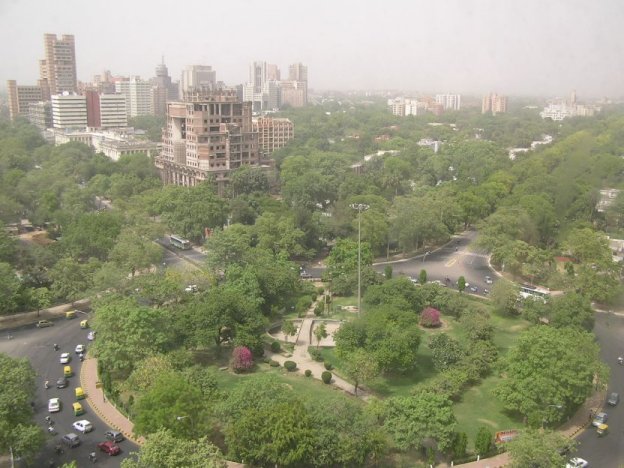 View From Our Hotel Toward Connaught Place